Concrete Answers Series for Architects, Engineers and Developers |
Click here for more answers
Resources
Publications and Downloads
A variety of resources suitable for owners, architects, engineers, concrete producers, contractors, and others in the concrete and construction industries.
Downloadable/Printable Brochures

Pervious Concrete Pavement Maintenance and Operations Guide (PDF)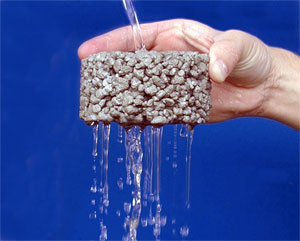 to order multiple copies click here!

Pervious Concrete: When it Rains, It Drains (PDF)
Four-page brochure from NRMCA's Concrete Delivers series.

Pervious in Practice: #1 Guide to Specifying Pervious Concrete (PDF)

New! Pervious in Practice: #2 Importance of Using Certified Pervious Concrete Contractors (PDF)

Pervious Concrete: A Solution for Michigan (PDF)
Four-page pervious concrete brochure by the Michigan Concrete Association (MCA).
Publications Available for Purchase

CIP #38: Pervious Concrete (HTML)
From NRMCA's "Concrete In Practice" series. (

Click here to purchase)

"When it Rains, It Drains" (4-page Pervious Concrete brochure)

Freeze-Thaw/Pervious Brochure (17 pages)

"Pervious Concrete Pavement" (NRMCA/PCA Publication)

Pervious Concrete (Combination Package of 3)
At no cost, owners, architects and engineers can request up to 5 copies of
When it Rains, It Drains and the two Concrete Delivers brochures.
Just email your request to NRMCA's Jacques Jenkins.
Click here for a comprehensive selection of publications on pervious
concrete and other concrete subjects at the NRMCA e-store.
Articles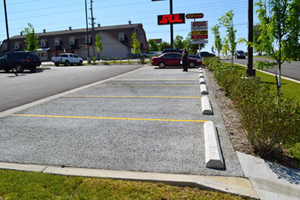 Pervious Concrete: Past, Present and Future (PDF)
March 2009 Concrete Contractor magazine article on how pervious concrete will play an increasing role in the future concrete industry. CLICK HERE to read the article online, at ForConstructionPros.com.

Understanding Pervious Concrete (PDF)
December 2005 article in The Construction Specifier.

Concrete Parking Areas Aren't White, They're GREEN (PDF)
Article by Vance Pool of NRMCA – Spring 2005 Concrete In Focus Magazine.

Freeze-Thaw Resistance of Pervious Concrete (PDF)
17-page analysis & case study compilation by NRMCA.

"NC State University Permeable Pavement Research, and Changes to the State of NC Runoff Credit System" (PDF)
From the 8th International Conference on Concrete Block Paving, November 2006.

"Structural Design of Permeable Pavements" Worksheet (PDF)
North Carolina State University, Department of Biological and Agricultural Engineering.

"Hydraulic Design for Permeable Pavement" Worksheet (PDF)
North Carolina State University, Department of Biological and Agricultural Engineering.

Infiltration Opportunities in Parking Lot Designs Reduce Runoff & Pollution (PDF)
An analysis of the treatment train used in the parking lot of the Florida Aquarium in Tampa, written by Betty Rushton, Ph. D., of the Southwest Florida Water Management District.

Mix Design Development for Pervious Concrete in Cold Weather Climates (PDF)
National Concrete Pavement Technology Center—Final Report, February 2006.

Oil Retention and Microbial Ecology in Porous Pavement Structures (PDF)
Coventry University, School of Science and The Environment.

Heavy Metal Retention Within a Porous Pavement Structure (PDF)
University of Essen, Department of Civil Engineering—Urban Water Management.
Pervious Concrete Seminars
Continuing Education for Architects & Engineers
Through the combined efforts of the National Ready Mixed Concrete Association and the Portland Cement Association, the seminar Pervious Concrete: A Stormwater Solution has been offered in 28 cities over the past 2 years. By attending, architects and engineers can earn 6 Professional Development Hours or fulfill requirements for NRMCA's STEPS program.

CLICK HERE to Learn More and Register!

NRMCA's ConcreteAnswers.org offers free project and planning assistance. If you're a commercial owner, builder, developer, architect or engineer,

CLICK HERE to apply. Or, to review a list of national, regional, state and local organization partners that you may contact directly for information and project assistance,

CLICK HERE.

Pervious Concrete Contractor Certification Program
Designed to be administered locally by local sponsoring groups in conjunction with planned training sessions or demonstrations of pervious concrete placement.

Database of Certified Pervious Concrete Craftsmen, Installers & Technicians.

List of Approved Local Sponsoring Groups



Videos, TV news and media reports on Pervious Concrete
Pervious project results from the RMC Research and Education Foundation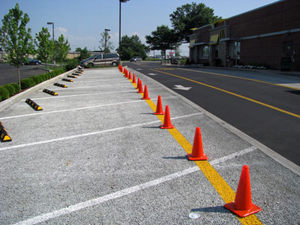 Two pervious concrete studies, funded jointly by the RMC Research & Education Foundation, Florida State Department of Transportation, and Rinker Materials, are now available:

Construction and Maintenance Assessment of Pervious Concrete (pdf)

Hydraulic Performance Assessment of Pervious Concrete Pavements for Stormwater Management Credit (PDF)
Also available from the Foundation:

Final Report: Pervious Pavement Field Performance Investigation on Parking Lot and Roadway Pavements (PDF)

Revised Pervious Concrete Research Compilation (pdf)
(Updated version with additional resources released in June 2008)

Pervious Concrete Success Stories
Brief overviews of some of the recent pervious pavement projects around the United States.

Villanova University Pervious Concrete Site (pdf)
Villanova's Stormwater Research and Demonstration Park is home to a Best Management Practice, Pervious Concrete Site. The site, formerly a standard asphalt paved area, is fully equipped with monitoring instrumentation to record rainfall and water quality.

PCA Summary: Pervious Concrete and Freeze-Thaw
In climates prone to severe freeze-thaw cycles, some are hesitant to use pervious concrete pavements until it has been proven that pervious concrete can be made to resist freeze-thaw damage. NRMCA has developed guidelines for using pervious concrete in areas prone to freeze-thaw conditions.

Concrete Pavement Analyst (CPA) Software
This powerful parking area design and financing software quickly and accurately quantifies the differences between concrete and asphalt pavements. Click the link above for a listing of CPA-qualified professionals or for a free project review.

Pervious Hydrological Design and Resources CD-ROM
An important pervious concrete reference tool, filled with technical and promotional resources, including Pervious Concrete Pavements and an analysis tool for hydrological design.

Pervious Concrete at the LEED-Certified East Atlanta Library
This mini CD-ROM promotional tool provides a compelling computer-animated case-study on the design/building of the LEED™-certified East Atlanta Library.

ConcreteThinker.com
A resource to help design professionals make sustainable design a reality through the durability, versatility and energy performance of concrete.

top